Sheet Metal Contractor: Vickers Metal Works Inc., Orlando, Fla.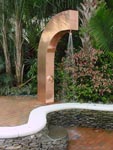 Standing at close to seven feet tall, this striking copper shower adds to the beauty of a lushly landscaped yard. The clear-coated copper will retain its finish for up to three years and may be reapplied or left to develop a natural patina.

The craftsmen at Vickers Metal Works took this creative homeowner's rough sketch and delivered a beautiful, functional shower that accents the home's outdoor pool deck.

"The owner came to us with a vision of a shower feature he wanted," explained Tim Vickers, president. "He drew a rough sketch and we made it a reality. He tells me it turned out exactly as he had envisioned."

The custom fabrication of the shower required close to 70 man-hours to complete. The sub-frame of the shower was fabricated using Type 304 stainless steel angle framework. Using copper "tinners rivets," 48-ounce copper sheets were attached to the frame. The copper panels were polished and clear-coated prior to installation.

Delivered in one piece, the sculpture was fastened to a concrete pad through a ¼-inch stainless steel base plate. The existing paver stones were removed from the pool deck to allow installation of the base plate onto a specially constructed concrete pad. Once the sculpture was in place the pavers were carefully reinstalled.

The shower head and hardware are also copper to blend with the sculpture. The design allows for a removable front panel to access the plumbing.