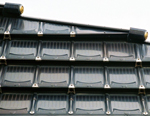 Figure 1: Shakaden Temple roof. Photo courtesy of the Nickel Institute.

When stainless steel is specified, there is no reason to limit the color choice to silver. A rainbow of choices is available in both opaque and translucent colors providing considerable design flexibility. This is the first installment of a two-part article on coloring methods for stainless steel.

Part one features the electrochemical and ceramic coloring processes. The design possibilities provided by these finishes are much broader than the color options. The underlying finish texture is visible and contributes to the finish's design flexibility and aesthetic appeal. Both of these finishes will last the life of the building if they are used appropriately and well maintained. Stainless steel's superior corrosion resistance makes colored stainless steel an excellent sustainable material choice for demanding applications.

Electrochemical Coloring

Electrochemical coloring (also called light interference coloring) is achieved by immersing sheets of stainless steel in a series of chemical and electrochemical baths. This process thickens the transparent chromium oxide layer, which makes stainless steel corrosion resistant and changes the way light is reflected by the surface. A full spectrum of translucent colors are available including gold, champagne, bronze, purple, blue, red, black, charcoal and green. Darker colors are produced as the chromium oxide layer thickens as the result of longer immersion times.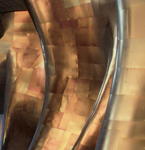 Figure 2: Experience Music Project. Photo courtesy of RIMEX.

The color will not fade when exposed to sunlight or weather. Figure 1 shows the roof of a Shakaden Temple in Japan, which was installed in 1975. After 30 years, there has been no color change in the electrochemically colored roof panels, which are black with small gold circles. The roof clips are also colored gold.

The color can be applied uniformly or deliberately varied for a rainbow effect. There will be slight variations in color, and, on larger projects, it is important to obtain samples that illustrate the range of color. Because the color is dependant on the way light is reflected through the chromium oxide film and the film thickness, curving or forming the panels will change the apparent color of the stainless steel and this should be considered during design. The color variation achieved by curving panels can be used effectively as a design element as shown in the Experience Music Project in Figure 2. These panels were fabricated by SMACNA member A. Zahner Company.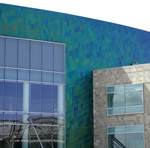 Figure 3: UCSD Cancer Center. Photo courtesy of RIMEX

Since the color is translucent, the finish beneath it is visible. The underlying finish choice changes the appearance of the color. Mirror-like substrate finishes produce brighter colors and duller finishes produce subtle, rich colors. If the underlying finish is directional, the final electrochemically colored finish will also be directional, so it is important to install all of the panels in the same direction. Different color and finish combinations create unique effects. Figure 3 shows the exterior of the recently completed UCSD Cancer Center, which has a Green Granexr finish that is achieved by applying green electrochemical color over a glass bead-blasted finish. The natural color variation adds depth to the finish. If a pattern is desired, color can be removed selectively by etching, polishing or engraving. Alternatively, selective screening can produce a finish that combines different electrochemical colors as is shown on the Shakaden Temple roof.

Electrochemical color can be damaged or removed by scratching and abrading and it is not repairable. Wind-blown sand will remove the color from exterior panels. Flat panels are not suitable for areas where vandalism or accidental scratching may occur. In applications where color damage is a concern or when a two-toned three dimensional pattern is desired, color is applied to embossed panels and the high areas are buffed to remove the color. The remaining color is recessed and protected (Figure 4). Electrochemically colored stainless steel cannot be welded or soldered as these high temperature treatments will permanently damage the finish.

Research has shown that the electrochemical coloring process slightly increases the corrosion resistance of the stainless steel, because it thickens the protective chromium oxide passive film. This increase in corrosion resistance is minimal and should not be taken into consideration when selecting an appropriate stainless steel for the environment. This coloring process does not limit the recyclability of the stainless steel.

Ceramic Color

This coloring process is sometimes identified as sputtering, plasma vapor deposition (PVD) or by the materials and color (Ti-gold). The first two descriptions refer to how the color is achieved. The stainless steel is cleaned to ensure good coating adherence and then placed in a vacuum chamber with a "target" that is made of the metal that will be used to create the coating. After the chamber is evacuated to a high vacuum level, a small amount of argon gas is injected. A high voltage circuit joins the stainless steel and target to create an electrical potential difference. In this plasma state, the argon ions bombard the target to release atoms of the target metal, which are deposited on the stainless steel substrate. This process is called sputtering and causes deposition of plasma on the stainless steel surface (PVD).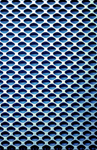 Figure 4: Embossed, electrochemically colored and buffed stainless steel. Photo courtesy of the Specialty Steel Industry of North America.

The colors and surface layer compositions that can be obtained using this process include: gold (TiN), rose gold (ZrN), bronze (TiAlN), blue (TiAlN), black (TiAlCN), and wine red (ZrN). This ceramic coating is very thin and the texture of the underlying finish is visible. The pattern of underlying finish is visible after the ceramic color is applied and it is not unusual to obtain patterns by etching, polishing, or engraving prior to coating the stainless. A sample of this finish can be seen in Figure 5. The color will not fade over time and it is more uniform in color and more abrasion resistant than electrochemical coloring. Although it has been used for aggressive applications like door hardware, it is important to note that the color can be damaged if it is attacked aggressively and the damage is not repairable. Figure 6 shows a revolving door colored by this process after ten years of service. If welding is needed, this should be done prior to applying the ceramic coating.

If the stainless steel will be bent or formed during fabrication, it is important to make product acceptance dependant on a bend test after receipt of the material. It is only necessary to bend a small piece of metal to determine if there is a problem with surface adhesion. If there are processing problems, the coating may delaminate during bending or impact. This is generally not a problem with a high quality supplier. Unlike electrochemical coloring, the color does not change when viewed from different angles but there will be a slight color lightening at bends. This coloring process does not limit the recyclability of the stainless steel.

Conclusions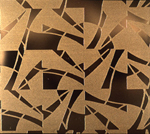 Figure 5: Etched and ceramic-coated stainless steel. Photo courtesy of the Specialty Steel Industry of North America.

The electrochemical and ceramic finishing processes offer tremendous aesthetic variety when combined with other finishing techniques. Suppliers can provide samples and work with designers to obtain unique one-of-a-kind finishes. Ceramic finishes are more scratch resistant than electrochemical finishes but both of these finishes can sustain scratching damage. This should be taken into consideration during finish selection and placement. Neither of these coloring options can be welded or soldered after coloring without destroying the finish. Bending or curving can change the appearance of electrochemically colored finishes. If more consistent color is preferred, ceramic coloring methods should be considered.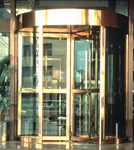 Figure 6: Revolving door with a gold TiN ceramic coating. Photo courtesy of Nisshin Steel.

The appearance of these colored stainless steel surface finishes is not defined by standards, so a finish sample should be used as a visual standard. Their appearance can vary from lot to lot or piece to piece and it is important to assess a potential supplier's experience and ability to match colors when working on large projects. Furthermore, multiple samples should be considered to define allowable variation.

Long-term performance is dependant on a regular maintenance program using cleaning methods approved by the finish supplier. Inappropriate cleaning can cause permanent damage. Conversely, there are many long-term installations which show the permanence of these colors when appropriate maintenance techniques are followed.

It is important to select an appropriate stainless steel for the service environment or the finish will eventually deteriorate due to corrosion. Additional information on stainless steel selection is available from the Nickel Institute at www.stainlessarchitecture.org. The Specialty Steel Industry of North America (SSINA) has a free brochure on special finishes for stainless steel which may be downloaded from their Web site at www.ssina.com.

Part two of this article covers more "Colored Stainless Possibilities" such as nickel oxide, plating and painting coloring techniques. It can be found in Vol. 11, Issue No. 4 of SMACNA's Architectural Metal Newsletter at www.smacna.org.

Acknowledgement: The author would like to acknowledge the assistance and support of the Nickel Institute in preparation of this article. Without their support, this article would not have been possible.

Author Bio: Catherine Houska, CSI, is a metallurgical engineer with an MBA in industrial marketing. She is an internationally recognized expert in architectural metal applications and is Senior Development Manager at TMR Consulting, a consulting firm in Pittsburgh, Pa. She may be reached by email at chouska@tmr-inc.com.