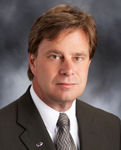 John Ilten
The following are President Ilten's remarks to the Sheet Metal Workers' International Association general convention in August.
From a contractor's perspective, it's been a tough year so far. Bidding jobs has been a challenge. Before the economic downturn, there might have been five or six contractors on the bid list. Now there's 30 or more. Bidding has been tight and close—and we've lost jobs for as little as a couple hundred bucks.
Call it crazy or call it desperate, but no matter what you call it, we contractors must apply our leanest, best practices and we must have a competitive labor partner on our side.
I was pleased to be a part of the Code of Excellence DVD just recently completed. John Lindemulder, SMACNA's incoming president, and I were honored to have cameo roles. I hope the DVD does the job, helping us build pride and peer pressure to deliver excellence—every day, on every job.
The most important news I have for you today is about SMACNA's new strategic plan that our board of directors approved in July.
The goal of SMACNA's new strategic plan is to establish SMACNA and its members as leaders in sustainable building technology. This will require the help of each sheet metal worker, business agent, JATC coordinator and SMWIA leadership.
Achieving leadership in sustainable building technology will result in new business opportunities for SMACNA members and our sheet metal partners. We'll also be counting on the skill and expertise of our sheet metal workers to deliver the professional excellence required as we sit at the table with the owners throughout the construction process. A sobering note however, our non-union competition is aware of these opportunities and they are gearing up to lead the way. It's our job to get there first.
So now it's time for a reality check. We contractors have to be better and sharper—and labor has to recognize the product they are selling may not be perceived as valuable and as exclusive as it once was.
SMACNA is actively positioning itself to capture this new emerging market. You'll be glad to know that during our strategic planning process, SMACNA reaffirmed its commitment to be an organization exclusively for union contractors. We're proud to have you on our side.
Sincerely
John Ilten
SMACNA President