Recently, SMACNA and members of the Campaign for Quality Construction (CQC) were part of a small group invited to meet with Obama Administration health policy officials to discuss the major points in a CQC letter to Congress. The letter addressed "cost-shifting" by employers who do not provide health care to employers who do. SMACNA also opposed small employer exemptions in any health-care bill. The current proposed small business exemption in the Senate is 25 or fewer employees and that number may be adjusted upward. The anticipated House bill is likely to contain an exemption correlated to a payroll threshold ($500,000 and below) which would exempt 85 percent to 90 percent of employers in the industry.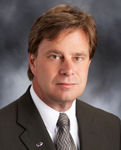 John Ilten
The following are President Ilten's remarks to the Sheet Metal Workers' International Association general convention in August.
From a contractor's perspective, it's been a tough year so far. Bidding jobs has been a challenge. Before the economic downturn, there might have been five or six contractors on the bid list. Now there's 30 or more. Bidding has been tight and close—and we've lost jobs for as little as a couple hundred bucks.
SMACNA recently entered into a partnership with the National Institute of Building Sciences' buildingSMARTalliance to further explore contractors and software developers' common interests in identifying and addressing interoperability issues in the MEP industry. Also joining this group along with SMACNA were the Mechanical Contractors Association of America (MCAA) and the National Electrical Contractors Association (NECA).
A recent Small Business Roundtable presented by the Small Business Administration addressed future enforcement plans for the Occupational Safety and Health Administration (OSHA). Richard Fairfax, director of the Directorate of Enforcement for federal OSHA, discussed key enforcement issues in the coming months and years, with many targeting the sheet metal and HVAC industry.
A special edition of the SMACNA "Seismic Restraint Manual: Guidelines for Mechanical Systems-OSHPD," first edition, 2009, has been developed to meet the specific requirements of the California Office of Statewide Health Planning and Development (OSHPD) for hospital and health-care facilities construction.
Issues Archive | Search Issues Archive | Publications Store | SMACNA Home